As a child, I had a love for small and lovely wooden furniture like wooden statues, wooden models, wooden boxes, wooden pens, wooden toys or little dragonfly made of wood, which gifted when my birthday in 10 years old, it could land on my finger's tip with its mouth. This dragonfly is one of my most favorite gifts; it also makes my love of wooden furniture grow bigger and bigger. It was that I began to read about Best Woodworking Books.
What is woodcraft?
It is straightforward to understand; it is the items made from wood, you or the carpenter will sculpt, assemble, decorate to create the objects you want.
My favorite woodcraft
Bamboo Dragonfly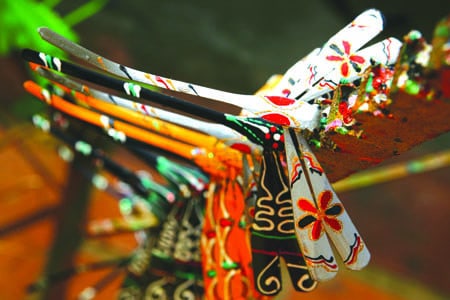 Dragonflies made of bamboo wood are a gift, keeping many memories of my childhood, as well as the children born at that time. It brings a sense of peace about the images of childhood when dancing and playing with my friend in the village or chasing the dragonflies in the field at the end of the village during the summer afternoons; it is about time people do not have to worry, reflect on this bustling life.
These dragonflies are made from bamboo stalks, from Te bamboo which is grown in the Northwest region of Vietnam. The selected bamboo stalks will be scrapped the bright green layer and dried, then split into wood pieces to make dragonflies. Then proceed to trim with the wood chisels to create dragonfly parts. Before the end of that stage, dragonflies are painted by color painting and finished with polish. With different colors and more clever textures, bring a unique to these dragonflies. It sounds simple, but these dragonflies need to use meticulously to chisel, assemble those wing evenly into the dragonfly's body and creativity in each motif, this is necessary to make it more beautiful and able to balance on the fingertips.
The catchy color and unique ability of the dragonfly made the special of the gift, and it became a popular gift in tourist villages in Vietnam. The dragonflies parked on the branch of the bamboo tree are the extremely close image to people that bring luck, more than that it carries the meaning of freedom, balanced philosophies in life and harmony with nature.
Wood doll
The wooden statue, a favorite wooden toy loved by children when I was a kid, was a Russian doll, it was a series of big to small babies of the same shape that was incorporated into one a big doll. What is special and exciting to the children as well as me at that time is in a big baby are having a set of small dolls. When you open the first doll will be a little toy shaped like that, but the size is smaller, keep on opening you will see another one with a smaller size and so on until the last one with a tiny scale. Imagining you are opening a gift, every time you open it, there is another gift that appears so that you will have more than one gift. Is it fantastic, right?
Russian dolls, also known as matryoshka dolls, are a world-famous souvenir of Russia. In the form of the girls bearing the cultural essence of Russia, it has impressed people tourists come to this country as well as others have not come to here yet, one of them is us.
Conventional materials used to make dolls are lemon wood, birch wood, poplar wood. They are usually the best woods in terms of fragrance and excellent moisture resistance. One of the impressive meanings for me when knowing about this doll toy is that it shows the beauty of the women in the family, which can be grandmothers, mothers, aunts who are women with a scarf on their heads, blushing cheeks, and always smiles on their lips. From a lively village girl to the arrogant aristocratic ladies are all shown through these dolls.
Everyone's childhood is different, different regions will have different memories, but these two gifts are the things that bring the most emotions and nostalgia to me. They are the mark of my lively and happy childhood