Over thousands of development years, human life has been more and more advanced in a modern way. From clothes, bags, jewelry to shoes, in that footwear is an accessory that is indispensable in people's daily life. Since ancient times, our ancestors have created sandals to walk by dry grass, then wood, and then plastic. With the use of protecting the feed and keeping the feet clean, the shoes are a decoration, a beauty item of human beings. Today I will take you to the world of wooden clogs, one of the oldest products, bringing many memories for previous generations. Moreover, this is an extraordinarily unique and eye-catching product.
What is the wooden clogs?
The wooden clog is an item for the feet that are used to protect and beautify the legs during human ambulatory. Clogs are made from wood, with the straps are made of leather or rubber or plastic. Wooden clogs have many different designs, for example, low clogs, high-heeled clogs, and pointed clogs. In this article, I will introduce you to 2 world famous wooden clogs that are Japanese wooden clogs and Dutch wooden clogs.
Japanese wooden clogs
Japanese wooden clogs are widely known in the world through TV series, news and exceptional culture of this country. It is also called Geta. Geta is a traditional Japanese wooden clog, similar to flip-flops but with higher soles. Geta is used in conjunction with traditional Japanese clothing such as kimono or yukata, or with casual clothes during the summer months. Along with cherry blossoms and Kimono shirts, Geta wooden clogs have become an indispensable part of the land of the rising sun.
At about 2000 years ago, during the Yayoi period, the first people to create the clogs Geta appeared in rural areas of Yamatai. The clogs of that time were made very simply. Only from large pieces of planks, which were cut out by the best hand saw and then created the holes for the straps, and the last step is closed the teeth for Geta, the result was beautiful wooden clogs. For the purpose of avoiding the foot from subsiding into the mud when transplanting rice, these clogs also help mark the places where fertilizer has been applied, note that this clogs not suit for the winter season especially when snowing. Through the next 3 periods, the Nara, Edo, and Meiji periods, the Geta wooden clogs developed actively and exploded in the Meiji period with the superior colors, designs, and materials.
Geta clogs have an exciting characteristic, which is the sound when using these clogs. Unlike the sound of other clogs, plastic clogs now, Geta emits a lively sound "Karakoro, Karakoro," this sound that makes you remember and cannot forget, it will imprint on the memory of the users and who hear this sound. It is also an interesting sound for me and an experience when I get on this Japanese Geta foot.
You will not be able to ignore these clogs when going to a Japanese festival or traveling to this country. Try wearing these kimono and clogs; it will make you look as elegant and gentle as Japanese women or strong but not lose the elegance of a gentleman.
Dutch wooden clogs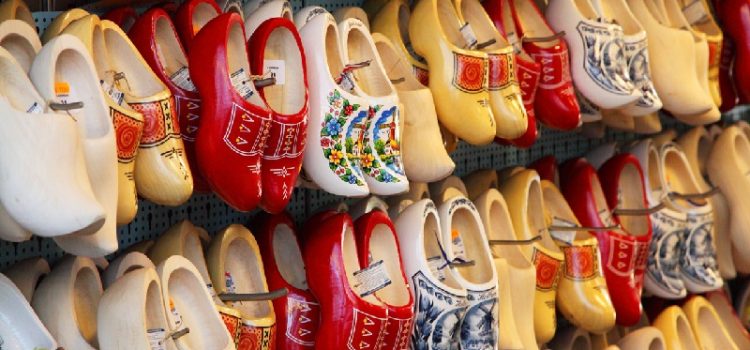 If you are a traveling person, have a hobby to visit the countries in the world, surely you have also known a charming souvenir in the Dutch, right? That's right, that's the Dutch wooden shoe. It will be a waste if you don't go to try this pair of shoes if you come to the Netherlands.
Unlike Geta, Dutch wooden clogs have an exceptional style; according to my perspective, you can imagine a clog like a small water bucket, it will not be wonderful compared. But I assure you, this clog will protect your feet and it helps to keep the warmth extremely good and helps your feet from getting wet.
The process of producing a pair of Dutch wooden clogs is extremely complex; it requires a good skill because otherwise, it can cause a footsore when used. The first clogs are produced from the hands of farmers. To prevent their feet from being affected by the cold weather and wet ground, they took a large piece of wood, using woodworking chisels to chisel and sharpen a full section in the middle, and finally grind the head of the clogs, which look like the boat's nose. Moreover, they add straw in the body of clogs, so when used, it will feel softer and warmer. Types of wood are often chosen for clogs such as birch wood, willow, ash.
Until now the Clogs style has been much more diversified, along with colors and patterns. These Clogs are increasingly popular and sympathetic to tourists as well as indigenous people here. At festivals in the Netherlands, you will encounter these Clogs in traditional dances like Klompedanskunt. The dancers will use clogs to create fun dances and sounds by tapping the nose and shoe soles on the wooden floor. These shoes also have a very romantic meaning in love and marriage. It will be an engagement believer when the man wants to propose to his lover. In some weddings, the bride and groom also gave wooden shoes to those who attended. Today, Dutch wooden shoes are still on sale, becoming an indispensable gift for every visitor to visit and want to keep a little memory of the country of beautiful windmills and tulips.
Conclusion
Wooden clogs bring a pure feeling along with a lively sound that creates a distinct traditional culture, although now wooden clogs are no longer as popular as before, but for those who love wooden furniture as me who like to learn as well as feeling these shoes on the feet. According to the best woodworking books for beginners, I think my own hands can make a simple Geta shoe. No need to be too fussy about tools just ready to perform, you and I will create a beautiful pair of Geta clogs. Why not? Do you want to try it with me? Let's start right now ^^